Stingray Experiences: What it's Like Getting Stung
You're at the beach, about to step in the water when you see someone hopping out of the water on one foot, clearly in pain. You help them to the lifeguard stand for assistance. Later, you see them join a line of people sitting to the side of the stand with a foot in a bucket of hot water.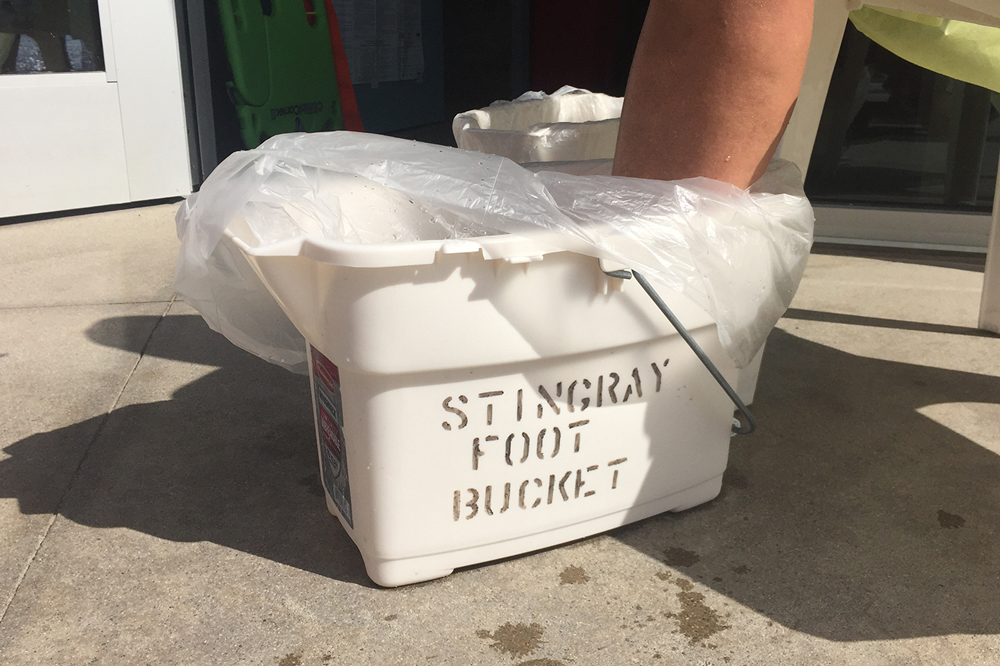 Stingray Injury Treated with Foot in a Bucket of Hot Water – Photo Credit Brian Chernicky, How to Treat a Stingray Injury Reduce the Pain
This experience is unfortunately so common that it has a name – 'The Stingray Hop', named after the painful hop you do after getting stung by a stingray.


Warning sign about stingrays to avoid the stingray hop

Not all stingray stings (and stingray hops) are the same though! In this article, we delve into the different levels of sting severity and what it feels like getting stung.

If you are reading this with a foot in a bucket yourself, we encourage you to check out What to do Immediately After Getting Stung by a Stingray.
Severe Stingray Stings

Severe stingray stings are the most intense, rarest, and, to put it bluntly…very bad. Excruciating pain is common at this level of severity, often described as an agonizing, burning sensation. Additionally, the venom injected by the stingray's barb can sometimes cause extensive tissue damage, nerve injury, and even affect vital organs. If someone is allergic or sensitive to the venom, they may experience difficulty breathing, chest pain, dizziness, or fainting. Stings can also cause severe effects like infections or skin necrosis (skin dying), requiring it to be removed by doctors in a process called 'debridement'.
Nerves in the foot a stingray can damage
Sharing his experiences of a severe sting, physician Eric Stern shared with NPR: "I began to notice that I didn't have any sensation in the dorsum — the top — of my foot around the base of my fourth and fifth toes." It turns out he had nerve damage from the sting and ended up needing surgery – an unfortunate, but common outcome of severe stings.


Moderate Stingray Stings
Depending how the stingray stings you can lead to a moderate injury
When someone experiences a moderate stingray sting, they typically encounter intense pain at and around the site of the sting, often described as a stabbing sensation. In this post, one victim described the experience of getting stung by sharing "I have labored two children without pain relief and I'm an avid skateboarder who slams concrete often. So, I know pain. This was unbearable. Morphine didn't help. Local anesthetic didn't help. Pain medication does not help." Another person who got stung twice responded to our stingray injury survey sharing: "Extreme pain both times…. Lingering pain/swelling/itching both times for over a week. Returned to surfing in 10 days."

With a moderate stingray injury you'll most likely have some part of a stingray's barb stuck under your skin that will have to be removed. In cases like these it is essential to seek medical assistance to reduce the chances of infection and other more serious complications.
Minor Stingray Stings
Even a minor stingray sting will be a memorable event, but thankfully not serious in the long run. With a minor stingray sting, the immediate sensation is often a sharp and excruciating pain where the sting is. It's commonly described as feeling like a sudden, but painful cut. In our stingray injury survey a beachgoer shared that "the initial sting wasn't that painful (felt like a pinch) but after getting out of the water the pain was quite intense for a few hours." In cases like these, the pain can radiate out, but not as much in a more serious experience!


Minor stingray sting

The reason for the pain is that the venom injected by the stingray's barb contains toxins that cause it. In an interview on stingrays with NPR, Dr. Chris Lowe from CSU Long Beach shares that "[the] toxin causes blood vessels to constrict, reducing blood flow," and that "it causes this intense pain sensation — a throbbing, kind of aching pain sensation. And it literally takes hours to go away."

Apart from pain, a minor stingray sting can cause swelling, redness, bruising, and sometimes bleeding from the wound. Afterwards, the area may feel tender and sensitive to touch. Thankfully, with a minor sting, you usually won't have parts of the barb stuck in the wound, and will be less likely to get an infection. Merck Manuals shares that "in most [stingray sting] cases, pain gradually diminishes over 6 to 48 hours but occasionally lasts days or weeks."
Final Verdict

Although there's a wide range of experiences with stingray stings, what's essential is to always practice safe stingray habits. You can read more in our blog on How to Avoid Getting Stung by Stingrays and contribute your experiences with stingray stings to our Stingray History Survey.

Ultimately, we started DragonSkin to help keep beachgoers from having to go through this. You can check out our Stingray Resistant Booties here!